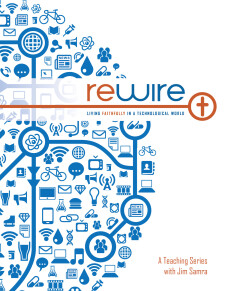 The world has a lot to tell us about technology. But what does God say? Does the Bible have anything to teach us in this area? The answer is yes!
In this six-session series with Jim Samra (originally presented on Sunday nights at Calvary in February 2014), we explore what it means to rewire our lives to God's truth and to live faithfully in a technological world.
Series Outline:
Session One: Five Technology Principles
Session Two: Digging Deeper into Technology Principle Five
Session Three: The Most Important Technology Story in the Bible
Session Four: How Does Technology Affect Us?
Session Five: Biblical Solutions to Live Faithfully in a Technological World
Session Six: Making it Personal
Rewire Series Orders
This series is available on DVDs for use in small groups or other teaching settings. Each session runs approximately 50 minutes.
Workbooks provide an area to take notes, plus discussion questions, Tech Talk and Parent Corner sections for each week (groups using the material can choose which sections apply best to them). Printed workbooks are no longer available, but can be viewed online.
For purchases and ordering information, contact .
Suggested Donations (shipping included):
DVDs (set of three): Suggested donation of $20